2020
JJ – as the company is known in the trade – has been a family company for over 135 years. Then, as today, the company is managed by its owners.
Our managing directors from left to right:
Stefan Prodöhl
(JJ Papier und Zellstoff GmbH)
Jörg Wendt
(JJ GmbH & Co. KG)
Rolf von Loßberg
(JJ Wood GmbH)
Daniel von Stamm
(JJ Papier und Zellstoff GmbH)
02/17/2017 †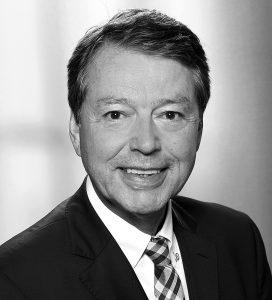 Wrold E. Wroldsen, one of the managing partners of JJ P&Z, died much too early and unexpectedly. It was a heavy loss for the company, but especially for the family, friends and colleagues. It was not easy to fill this large gap, but the Jacob Jürgensen Group has continued the successful work that has been significantly shaped by Mr. Wroldsen in the past decades.
2016
Recommencement of worldwide trade in plywood.
2012
Buildup of the Europe-wide sale of larch boules/flitches and related special products.
2007
Celebrating a history of 125 years with 350 invited guests at the Atlantic Hotel.
2006
Start of production and trade with office stationery, today an important product group at JJ Papier & Zellstoff.
2005
Tradition obligates: a team of employees and business partners has been racing in the Hamburg Cyclassics every year since 2005.
2004
Merger of the wood companies JJ Scandinavia and JJ International that had previously been under separate management.
2001
Restructuring of the group into the corporate structure still in place today.
2000
Acquisition and expansion of the division for import of components for slat frame manufacture. Europe-wide distribution in close cooperation with Eastern European supplier plants.
1998
Commencement of activities with Siberian larch. Buildup of extensive storage facilities for this wood.
1995
First export of Russian newsprint by Jacob Jürgensen to what is now the largest export market: India.
1993
Start of collaboration with the Solikamsk plant for the worldwide distribution of newsprint paper.
1991
Rolf von Lossberg joins Jacob Jürgensen GmbH; managing partner since 2009.
1990
Managing partners Wrold E. Wroldsen and Stephan Prodöhl join Jacob Jürgensen Papier & Zellstoff GmbH.
13/05/1988
Relocation to today's company headquarters on Hans-Henny-Jahnn-Weg 9 in Hamburg-Uhlenhorst.
1984
Andreas von Möller joins Jacob Jürgensen GmbH; until 2012, managing partner; since 2009, president of the European Timber Trade Federation (ETTF).
09/12/1982
Jubilee celebration at the Atlantic Hotel featuring a talk entitled: "One Hundred Years, and Now What?" to honour 100 years of Jacob Jürgensen.
Mid-1970s
Start of the distribution of kraftliner from Arkhangelsk, initially to Germany, today to large parts of Western Europe.
1967
21/07/1967 First Asian contract (Ramin sawn timber).
30/10/1967 First dark red meranti contract (sawn timber).
Mid-1960s
Commencement of pulp trade with the Soviet Union.
1957
Wolfgang Reschke, managing partner from 1970 to 1994, joins Jacob Jürgensen. Takeover of Scandinavian activities, later development of the department for South-east Asian woods
1955
Today, just as then, the closing out of the year is celebrated with the entire team.
1948
Franz-Herbert Franke, Ewald Franke's son, joins his father's company. After his father's death in 1950, Franz-Herbert Franke, now 26, takes over the management of the company.
1939-1945
The war causes tremendous destruction in Europe, and at the end of the Second World War, the name is all that still remains of the company.
1932
The Franke family takes over the company; the name Jacob Jürgensen is retained because it has established high name recognition on the market.
1925
Ewald Franke becomes a part-owner.
1910
Ewald Franke joins the company.
1889
Discontinuation of the coastal shipping business and relocation of company headquarters to Hamburg, from where the corporate group still operates its worldwide network today.
09/12/1882
The company founders, Jacob and Hans Jürgensen, open a business office, initially headquartered in Flensburg, on 09/12/1882. They have been carrying wood on their ships to countries all around the Baltic Sea for years; now they have decided to start trading with the products that they previously only transported.